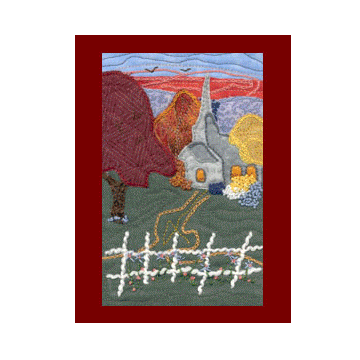 I was first introduced to fabric postcards through Valerie Hearder's Landscape Yahoo group. http://www.valeriehearder.com
These little mini quilts are so much fun to do and the possibilities are endless. Four were done for swaps and the other four were for family.
My first was the little church. I thought of our Gatineau Hills and the churches which are nestled among the trees in the Ottawa Autumn scenery. I felt there was more detail than needed in this card for such a small canvas. I learned to streamline as I went along. The second card is entitled "Flying Home in the Morning Mist", a picture of the highway through Thunder Bay. It is the result of a monochrome challenge. I chose brown. The third is one of the bike paths approaching the Parliament Buildings in Ottawa. I called it "Cycling Through an Ottawa Dawn". The deer was the next for a Christmas swap. It is called "Christmas Morn' at Silver Lake". The deer are from photos of a pretty doe that visited our garden through the fall and early winter. The singing snowmen I named "Snowdust Singers" and sent to family at Christmas. Two valentines were made for my grandgirls. The latest I made for a spring swap and I chose Ontario Trilliums growing in a forest glade. This one is "Ontario Trilliums in Bloom, a Sure Sign of Spring.