Lighthouse, Prince Edward Island, Canada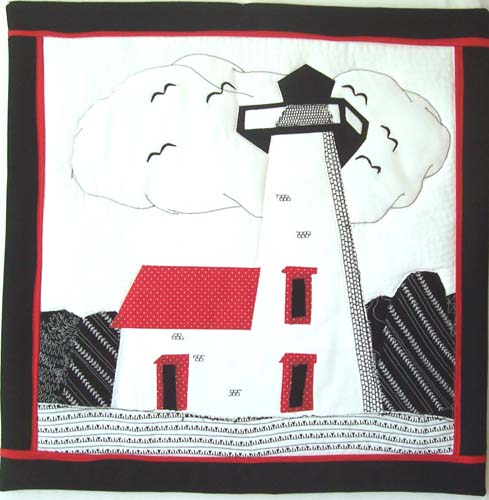 The lighthouse quilt was made for a black and white with one colour pop challange with the Valerie Hearder Landscape yahoo group. I could not find printed fabrics that I liked for this little quilt so I bought solid black and white and used my machine's fancy stitches to pattern them. A tear away backing kept the stitches raised and then was removed for easy quilting. The gulls in the clouds were done with a scallop stitch. The whole quilt was machine quilted. This 17″ by 17″ quilt is the first black and white quilt I have made. I usually use a lot of colour as you can see in the Sunrise, Sunset quilt.
I designed this quilt from a photo of the Prince Edward Island lighthouse with a free piece of software called "Quilt Assistant". Here is where you can find it:
http://www.cosman.nl/software_en.html
It is an awesome program and I plan to use it more often.