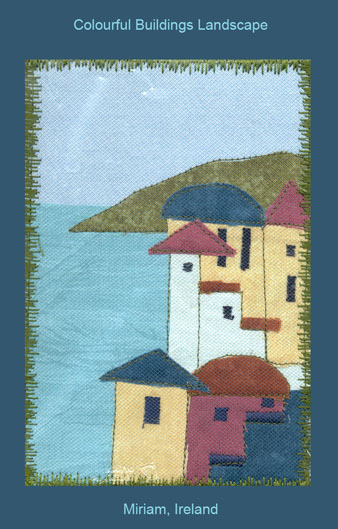 The Irish Patchwork Society is having their 30th Birthday National Exhibition at the Botanic Gardens in Glasnevin, Dublin. Miriam, Chairperson, is organizing an international fabric postcard exhibition.
The Society is inviting postcards from all around the world. The theme is BRANCHING OUT and should be Floral, Horticultural, Landscape, Nature, Environmental. They should be sent without an envelope as we want to hang them so that everyone can see both front and back of the cards, to see the stamps and where they have come from.
Please send cards to: The Irish Patchwork Society, PO Box 45, Blackrock, Co. Dublin, IRELAND. before the end of May, 2011.
These postcards will also be exhibited at our Knitting and Stitching Show in November (Which is our only big show) and they will be sold and the proceeds will go to the Marie Keating Foundation…….Which is a Breast Cancer Charity here in Ireland.
Please create a little work of art and send it on. What a wonderful way to contribute.
Here is their link: Irish Patchwork Society If you are looking for further information please email them at admin@irishpatchwork.ie or look at their blog http://Irishpatchwork.blogspot.com