Weather Outside My Window Postcard Exchange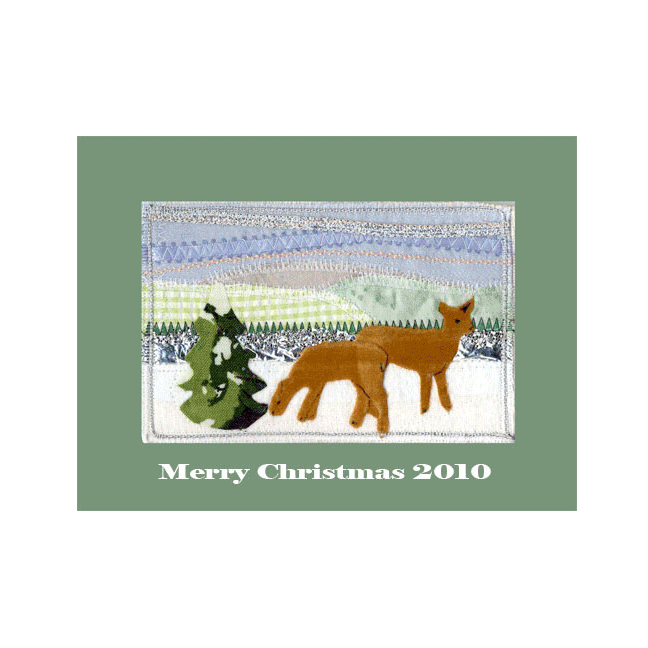 More fabric postcards, the first for this year plus my Christmas postcard for 2010 are all here. The exchange subject was the weather outside our windows. Miriam in Ireland saw snow for the first time and made snowmen, thus the snowman on her card. Sheila in Scotland saw the sun shining through the ice and snow in the tree branches and Margaret in Australia saw too much rain and flooding. I look out my window here in Canada and see an oak tree in our backyard that still hasn't lost all it's leaves and when the wind blows it plucks a few more from the tree and carries them swirling to the snow. The deer in my Christmas postcard are the same ones that I used in my winter postcard exchange last year. They were created from a photo of a pretty little doe who visited my garden in the fall.
On my Christmas card there is a frozen lake created from a foil bag that held tea bags and silver ribbon adorns the blue winter sky. The trees in the back ground are zigzag and painted in with paint pens and a little silver glitter was glued around the lake. The oak tree on my weather card is cordoroy with stitching and paint. I stitched through it and into the branches to make the small branches. The leaves on the tree and the snow beneath are beads. The beads are stitched on and then glued with a waterproof glue to survive the mailing.